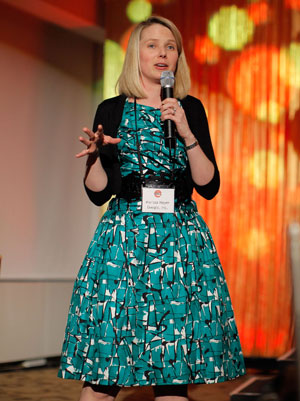 Forbes
's list of the World's 100 Most Powerful Women has been released, and we're excited to see quite a few techies in the group.
Forbes selects candidates within six categories: billionaires, business, lifestyle (including entertainment and fashion), media, nonprofits, and politics. From those categories, each person is ranked upon three metrics: "dollars, a traditional and social media component, and power base points."
Nine women with technology connections made the prestigious list. Find out who they are and their rankings below.
5. Sheryl Sandberg, COO, Facebook — According to Forbes, Sheryl has helped to grow active Facebook users to represent 11 percent of the world's total population. She is also an outspoken advocate of empowering women in the workforce.
6. Melinda Gates, cofounder and cochair, Bill & Melinda Gates Foundation — A computer scientist in her own right, Melinda Gates now focuses on the foundation named after her and husband. In the last year alone, the organization gave away $2.4 billion in global charitable contributions with an emphasis on immunizations.
16. Susan Wojcicki, SVP of Advertising, Google — Dubbed "the most important Googler you've never heard of," Susan was the one to rent her legendary Palo Alto garage to the Google founders. She currently oversees AdWords and mobile advertising products and is responsible for bringing in 96 percent of the company's total revenue.
20. Cher Wang, cofounder and chair, HTC; VIA Technologies — As cofounder of Taiwan-based HTC, Cher has grown the company to be the maker of more than out of every five smartphones.
37. Carol Bartz, CEO, Yahoo! — As CEO of the Internet search engine, Carol has made Yahoo! into a leading digital media group with an audience reach over 700 million.
The remaining four most powerful women with a tech focus after the break.