Who Pays For What in a Wedding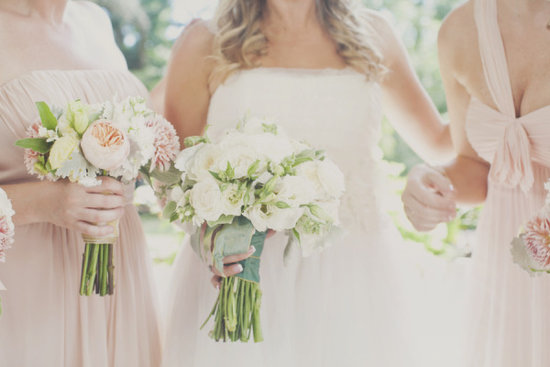 We're way past the age where we have to stick to certain outdated rules when it comes to weddings, such as the bride's parents footing the bill for most of the whole wedding. This tradition stems from the times when parents had to include a dowry to make the bride more attractive, since she won't be able to earn income. These days, many couples are splitting the costs evenly among themselves, with and without their parents.

Take a look at the traditional cost breakdown of a wedding for reference. But keep in mind that no one is required to follow these rules — it all depends on your own situation.

Bride pays for:
Groom's ring
Wedding gift for groom
Gifts for bridesmaids
Bridal party luncheon
Transportation for bridal party to wedding
Groom pays for:
Engagement ring and bride's wedding ring
Wedding gift for bride
Gifts for groomsmen
Marriage license
Officiant's fee
Wedding wear
Honeymoon
Boutonnieres for groomsmen, fathers, and grandfathers
Bridal bouquet
Corsages for mothers and grandmothers
Transportation for groomsmen to wedding
Read on for more.
Bride's family pays for:
Engagement party
Invites
Wedding planner or coordinator
Wedding dress
Bridal party transportation to wedding
Reception
Vendors
Ceremony
Their own attire
Gifts for the couple
Groom's family pays for:
Rehearsal dinner
Alcohol at the reception (optional)
Their own wedding wear
Gifts for the couple
Wedding party pays for:
Their own attire
Best man and groomsmen host the bachelor party
Maid of honor and bridesmaids host the wedding shower and/or bachelorette
Gifts for the couple
Guests pay for:
Their own attire
Transportation
Gifts for the couple
Photo by Our Labor of Love via Style Me Pretty