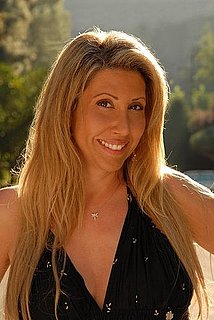 With a name like Adventure Girl, you know she's rockin' a dream job. She's a daring traveling expert, and has left footprints in places like safaris in Africa and ice hotels in Iceland. She's not just your average travel guru — Stefanie Michaels, has been dubbed by Vanity Fair as "America's Tweetheart," for her huge Twitter following on @adventuregirl . . . about 1.5 million followers and growing.
SavvySugar: Tell me about your favorite day on the job.
Stefanie Michaels: The first time I saw a lion in the wild. That was really spiritual. For the four days we had been looking, because we heard that there was this pride of lions that had a series of babies over the past months and we couldn't find them. All of a sudden, our tracker said something to the driver and we made a U-turn to a different direction and we came around these boulders to see the pride. There was one male and there had to have been maybe six females all different ages, and the babies. There had to have been about nine to 10 babies and they were all rolling around, playing, hissing and growling, and we just sat there still, quiet in the truck. We watched the babies play and the mothers lick them, and it was almost like we shouldn't have been there but we got this view. I just pinched myself. I couldn't believe that we were sitting there watching this. The driver turned around to us later and said did you understand how rare this is. It was magical it was one of the most incredible experiences that I've ever had.
SS: Where do you want to go to next?
SM: Antarctica is on my shortlist, I've been trying to get there for a long time there's always some kind of roadblock. But I feel like I want to get there faster, because of what's going on with global warming. It may not be there to see so I'd really like to get there.
For more about Stefanie's adventures, read on!