How Much Did Michael Jackson's Memorial Cost?
Michael Jackson's Staples Center Memorial: Guess How Much?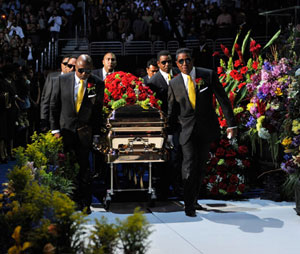 More than 17,000 fans, friends, and family members of Michael Jackson gathered Tuesday to honor the King of Pop's memory at Staples Center.

The city of Los Angeles footed the bill for the security, traffic control, and other services at the memorial service, and now the cash-strapped city is seeking help to cover the cost. City officials have even set up a website for fans to make tax-deductible donations through credit cards, PayPal, or check. Can you guess how much MJ's memorial cost LA?