DIY Tin-Can Light
Get Festive With an Upcycled Tin-Can Lamp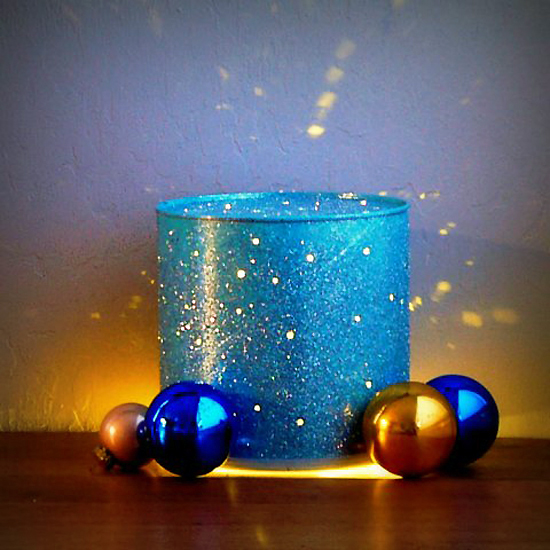 Upcycle a tin can or a 48-ounce peanut can (because there's nothing wrong with buying nuts in bulk) into a glittering tin-can lamp that makes any corner sparkle. And this decoration is so fitting during the holiday season — especially if you don't have space for a tree. Pop in a string of LED lights, and you're ready for festivity.

Keep reading for the directions.

What You'll Need:
Tin can
Hammer
Nails
Spray paint
Newspaper
Spray adhesive
Superfine glitter
LED lights
Directions:
Start by removing the outside wrapper from the can. If your can is completely made of metal, fill with water and pop in the freezer overnight. It's much easier to nail holes in the can if it's filled with ice. If you're using a metal-bottomed container with heavy cardboard sides, you can skip this step.
Now use a hammer and nails to make holes all the way around the container. You can use different-sized nails to create a star effect.
Take outdoors or to a well-ventilated spot, and cover the area with newspaper. Spritz with spray paint, and then touch up as needed.
Once dry, spritz the can with spray adhesive, and then sprinkle with superfine glitter. You can use any color or stick with silver or gold for a nice holiday touch.
Let the can dry for at least an hour, and then fill with a string of LED lights. Pop the base on the can, turn on the lights, and your light is ready to ring in the season.