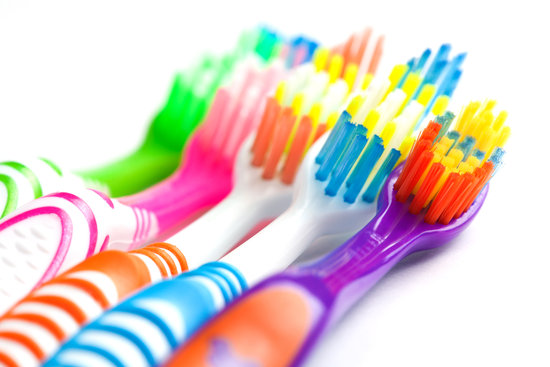 When your toothbrush has done its duty, instead of kicking it to the curb, give the brush a second life as a helper around your house. After a quick spin in your dishwasher, that old toothbrush can be put to work doing a multitude of tasks, cutting down on the amount of elbow grease that goes into cleaning. Here are 10 smart reasons to keep your old toothbrush stashed with your cleaning supplies:
Grout scrubber: Instead of using harsh chemicals, or getting tuckered out from the repetitive movement of scrubbing, use the toothbrush to clean away stains. Pair it with a homemade cleaner, and you're on your way to a sparkling bathroom or kitchen.
Hard-to-reach spots: You know that space behind your bathroom or kitchen sink that's almost impossible to really get clean? Use your handy toothbrush to scrub and remove mold and hard water stains. Simply toss the toothbrush in the dishwasher after using, and it's ready for another cleaning.
Jewelry brush: Turn your old toothbrush into a jewelry cleaner by scrubbing with dish soap — making sure to plug your sink first! Using dish soap won't harm your favorite jewels and will help remove dirt and oil buildup.
Cleaning small appliances: Transform your toothbrush into a crumb catcher for your toaster or a blade cleaner for your blender.